4 Body Parts You're Forgetting In Your Anti Aging Routine
4 Body Parts You're Forgetting In Your Anti-Aging Routine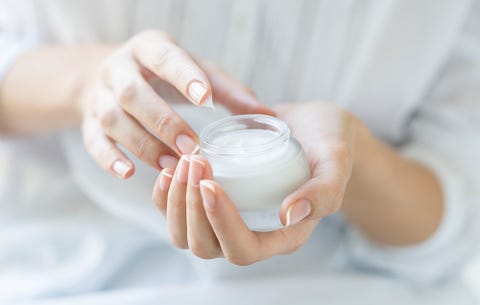 It's easy to recognize older hands: They're speckled with sunspots, they're skinny, and they have bulging veins and tendons, along with crepe-like skin. You can blame the brown spots on unprotected sun exposure pretty much year-round for your whole life. (Have you applied sunscreen to your hands every day for decades? We haven't, either.) Veins and tendons look more prominent because of lost volume around them, which is a normal part of aging. And think of crepey texture as tiny wrinkles that develop as you lose soft tissue and your natural oil production decreases.
At-home help:Prevent further sun damage by slathering on sun block daily—even in winter—and keeping hands hydrated by moisturizing after every wash to minimize crepiness. Ideally, your hand cream should include antioxidants, retinols, and growth factors.
"These ingredients are all important because they all lead to collagen production in different ways, and more collagen means thicker skin," says David Goldberg, MD, a clinical professor of dermatology and director of laser research at the Icahn School of Medicine at Mount Sinai in New York. "If you apply them regularly, you can really stop yourself from getting Grandma's hands." Goldberg recommends SkinMedica TNS Serum and Neocutis Nouvelle Retinol Correction Cream.
Pro fix:If you're already seeing skeletal, veiny hands poking out of your sleeves and it bothers you, consider Radiesse, the first injectable dermal filler approved by the FDA for hand rejuvenation. "We've been using a number of other injectables off-label, but Radiesse is the best," says Lorenc. It's opaque white, so you won't get a blueish tint (which can happen with hyaluronic-acid based fillers such as Juvederm and Restylane), and there's less swelling, since Radiesse is not "hydrophilic," meaning it doesn't attract water. If sunspots are your complaint, consider broadband light therapy (BBL) treatments: Light energy is absorbed by the brown pigment—and then it just flakes off and disappears, Lorenc says.
MORE:5 Ways Your Hands Are Making You Look Old—And How To Erase Years
Advertisement - Continue Reading Below
Advertisement - Continue Reading Below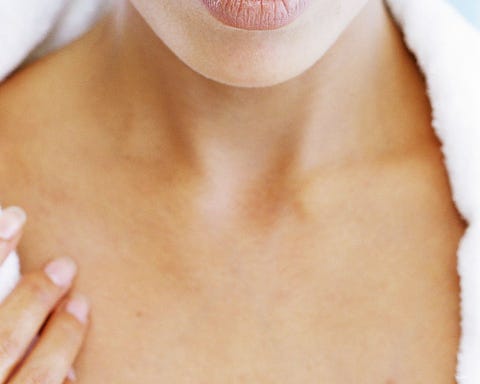 Claire Artman/getty images
Blame genetics, sun exposure, and loss of collagen and elastin for wrinkling, freckling, and vertical creases on chest skin. "If you biopsy the chest skin of someone in their 60s, you'll see disorganization of collagen bundles—they're less aligned, more haphazardly placed, and there are fewer of them" than there are in a younger person, Lorenc explains. "That's why you get crinkly, crepey, loose, chicken skin on the chest, where skin is even thinner than on the face."
At-home help:Broad-spectrum sunscreen and a good daily moisturizer (such as coconut oil) go a long way toward protecting chest skin. Jeannette Graf, MD, director of dermatology at Omni Aesthetic MD in NYC, likes Neocutis Micro-Firm Neck and Decollete Rejuvenating Complex. "It's great for the chest because it has vitamin C, which is a lightener; argan oil, which is very moisturizing; plus collagen-building peptides and protective antioxidants," she says.
Pro fix:The up-and-coming treatment for chest skin is micro-needling, which involves making teeny-tiny pinpricks in the skin, along with platelet rich plasma (PRP)—growth factors that have been extracted from your own blood.
"Micro-needling stimulates collagen because it mechanically disrupts the skin's surface, so skin repairs itself by tightening and increasing collagen production," say Lorenc. "Growth factors stimulate collagen and elastin on a biochemical level." He recommends getting one treatment every month for 3 months. It's not painful, but you can expect a little redness and swelling.
A second option is BBL, which uses light energy to cause minor trauma under the skin, prompting new, more organized collagen to form. There's little to no downtime, but you'll need multiple treatments and the results last only 6 to 9 months. Or you can try (diluted) injections of the filler Sculptra. "There's a very pronounced stimulation of collagen," Lorenc says. "It's great, but it's an off-label use."
MORE:3 "Instant" Anti-Agers That Work
Advertisement - Continue Reading Below
Advertisement - Continue Reading Below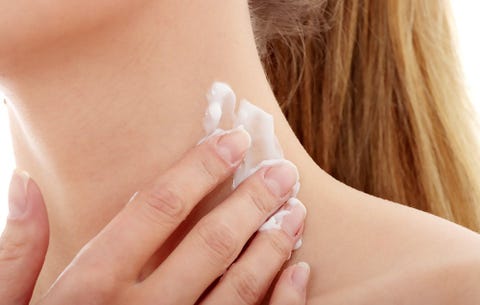 piotr marcinski/shutterstock
If either of your parents has a droopy neck, it may be in the cards for you, too. Gravity can also loosen and elongate the muscle bands around the neck, called the platisma, leaving skin lax and hanging. UV exposure further damages the collagen and elastin, making it harder for neck skin to bounce back.
At-home help:Sunscreen and the right daily moisturizer may slow the process—try StriVectin TL Advanced Light Tightening Neck Cream w/ NIA-114. "The peptides promote collagen and skin-tightening, and polysaccharides, which are sugar molecules, are great humectants," Graf says. "It also has algae, one of my favorite ingredients because it stimulates microcirculation, activating the lymph system—which is like the sewage system of the body—so it helps push out all the garbage sitting in skin and leaves it looking brighter."
Pro fix:There are lots of options here, and the best one(s) depends on how much help you need in this area. If you just need a little tightening, you might consider Ultherapy, a nonsurgical treatment that uses focused ultrasound. "It's very painful, but it can be effective and it's noninvasive," Lorenc says. Next in line is ThermiSmooth, a topical radiofrequency that tightens skin by causing minor heat damage. It's also noninvasive, but you'll need at least three treatments and will see only a "modest degree of improvement," according to Lorenc.
For really lax skin, Lorenc brings out the big guns with ThermiTight, a version of radiofrequency that's delivered under the skin through small punctures. "It's more efficient and more effective, but you'll have 24 to 48 hours of bruising and swelling," he says. The most aggressive treatment is surgery—usually a neck lift—to remove excess skin and tighten the platisma bands.
MORE:7 Surprising Solutions For A Younger-Looking Neck
Advertisement - Continue Reading Below
Advertisement - Continue Reading Below
kittisak jirasittichai/shutterstock
Got saggy, wrinkly skin above your knees? It's not surprising, as you have collagen and elastin breakdown, sun damage, gravity, and possibly your DNA working against you in this area. "Genetics play a big role here," Lorenc says.
At-home help:Add your knees to the list of body parts that ought to be slathered with moisturizer and SPF every day. Graf likes Exuviance Body Tone Firming Concentrate, which can have a temporary tightening effect.
Video: What Your Nails Say About Your Health
4 Body Parts Youre Forgetting In Your Anti-Aging Routine images
2019 year - 4 Body Parts Youre Forgetting In Your Anti-Aging Routine pictures
4 Body Parts Youre Forgetting In Your Anti-Aging Routine advise photo
4 Body Parts Youre Forgetting In Your Anti-Aging Routine photo
4 Body Parts Youre Forgetting In Your Anti-Aging Routine new foto
picture 4 Body Parts Youre Forgetting In Your Anti-Aging Routine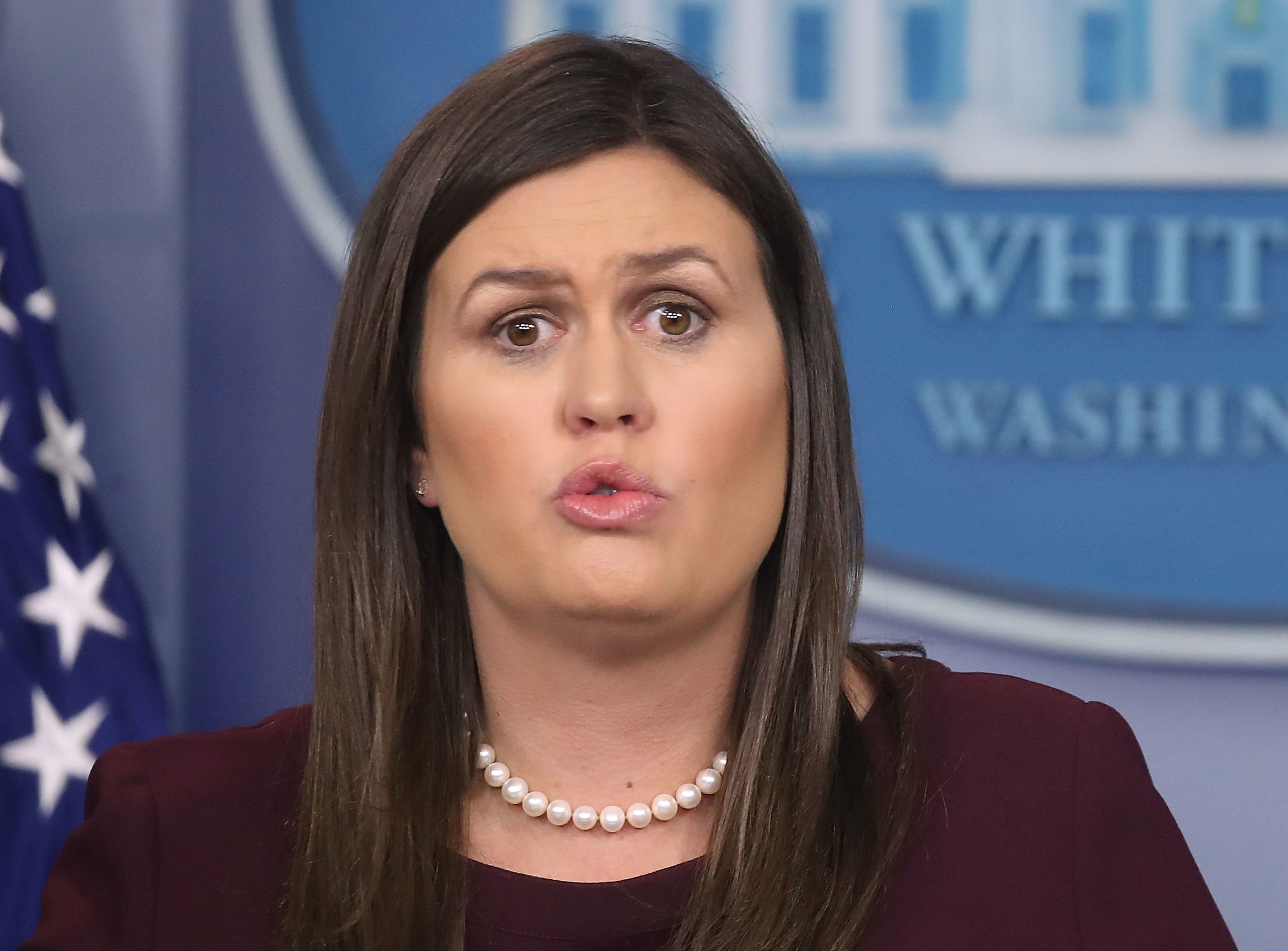 Watch 4 Body Parts Youre Forgetting In Your Anti-Aging Routine video
Forum on this topic: 4 Body Parts Youre Forgetting In Your , 4-body-parts-youre-forgetting-in-your/ , 4-body-parts-youre-forgetting-in-your/
Related News
How to Face an Interview
Budesonide Reviews
Outdoor Fitness : Top 10 Ideas
A Weekend with the Girls in a BMW 435i Convertible
Good Gas Station Eats
FDA Approves Highly Accurate At-Home Colon Cancer Test
How to Approach a Girl in Fifth Grade
Adidas Originals x Alexander Wang Season 3 Drop One
How to master the bicep curl
How to Buy Healthy Cat Food
Date: 17.12.2018, 01:53 / Views: 74142
---