How to Properly Acclimate New Fish
How to Acclimate Your Fish to Your Aquarium Floating Method
Acclimation is a very important step in introducing a new fish to your tank, and failure to do so properly could result in the death of the new fish. This article will detail step-by-step instructions on how to acclimate your new fish to their new environment. Times and methods may change depending on the species of the new fish, as well as the fish currently in your tank. However, the basic floating approach is a good one for gradual acclimation.
Steps
Do your research about what fish you're getting, first.

Many species of fish cannot coexist with each other within a small tank, and many species can grow to be quite large. Start by asking yourself the following three questions below. Once you have a general idea of the type of fish you want, you may also need to purchase additional hiding spaces or plants to make their adjustment as stress free as possible. Many fish will have a similar reaction to a new habitat, which includes hiding from anything and everything for upwards of a week. As with any animal, it is important to provide them with a place to feel safe and call their own as soon as they are introduced to their new home.

Do I want a fish of function?- Many fish aren't just pretty faces, they actually contribute to the well-being of the tank by cleaning up algae stuck to the walls, gravel or plants. Some even eat the poop of other fish, which sounds disgusting, and it is, but it's healthy for them and helps keep your tank sparkling!
How big will it grow?- While sharks are awesome, they tend to grow to a fairly large size, making them the less than ideal fish for the typical home aquarium enthusiast. Try to find a fish whose maximum size will not be more than 1/5 of the total length of the tank. This will allow them to grow to their maximum size comfortably, and allow them to stretch their fins every now and then.
Are my current fish compatible?- As previously stated, many fish are not suited for living within close proximity to other species of fish.

Purchase your fish.Many aquarium stores have a wide selection of fresh and salt water fish available for purchase; however, some of the more exotic species may require you to travel to a specialty fish outlet or breeder. You may even be required to order one from overseas. In many cases, the aquarium store will be able to place your special order for you, and will inform you when your new fish has arrived at the store.

Take acclimation seriously.Many stores will present your new fish to you in a small plastic bag containing some water from their old habitat or tank. The old water contains familiar smells and pheromones that calm the fish and provide a friendly environment for transport. The bag is not a cheap alternative to traditional packaging; the fish is presented in a bag because the walls of the bag are thin enough to transfer heat and acclimate to the surrounding temperatures. This will be explained in further detail in the next step.

Place the bag in the water of your aquarium as soon as you arrive home.

Let it float there. Do not open the bag! The water the fish was living in at the store or previous location is most likely warmer or colder than that of your tank, and simply dumping the new fish into a water with a drastic difference in temperature can cause the fish to go into shock, preventing their gills from filtering the oxygen out of the water, effectively drowning them.

Introducing the warm/cold water within the bag to the warm/cold water of the tank allows it to slowly adjust to the same temperature of the outside water, without introducing them to the new smells and pheromones of the old fish.

Wait roughly 30 minutes to 1 hour.

After that, the temperature of the water within the bag should be the same as that of the rest of the aquarium. It is still not safe to simply dump the fish into the tank.

Start by opening the bag and dumping half of the water in the bag into your aquarium. This lets your old fish know there's a new fish in the tank as the pheromones mix with the old water and dissipate. Fill the bag with some of the water from your tank and tie it back up. Now the new fish has a smell for the old fish in your tank. This works as kind of an introduction of fish before coming face to face. When the time comes, they will recognize the smell of one another, and no battles for dominance will ensue, provided you did your research and chose compatible fish in step 1.

Wait a further 5 - 10 minutes.

The water will be thoroughly mixed enough to introduce the new fish fully into its new environment. Your new fish will most likely sink to the bottom and remain motionless.

Don't panic! This is the fish's way of remaining undetected in an unfamiliar habitat. It may take some time for your new fish to find a location he's ready to call home, and he may butt heads with a few old tank mates, but eventually he will have a little space within your tank all to himself!

Enjoy watching your new fish in his brand new home!It can be quite fun watching them meet and interact with the other fish for the first time. Fish can be just as quirky as cats or dogs!
Community Q&A
Ask a Question
200 characters left
Include your email address to get a message when this question is answered.
"Holding tanks" or "quarantine tanks" can be purchased and attach to the inside of your current tank. They effectively remove the plastic bag from this process.
Warnings
Some fish are not suitable to live with live plants or invertebrates. Be sure to researcheverythinggoing into your tank.
Never use hides, gravel or plants that weren't specifically designed for use in aquariums! Many plastics have sharp edges that can cut your fish, and many non-aquarium hides are painted with lead-based paints.
Video: HOW TO: add new fish to your aquarium
How to Acclimate Your Fish to Your Aquarium Floating Method images
2019 year - How to Acclimate Your Fish to Your Aquarium Floating Method pictures
How to Acclimate Your Fish to Your Aquarium Floating Method advise photo
How to Acclimate Your Fish to Your Aquarium Floating Method picture
How to Acclimate Your Fish to Your Aquarium Floating Method new images
pics How to Acclimate Your Fish to Your Aquarium Floating Method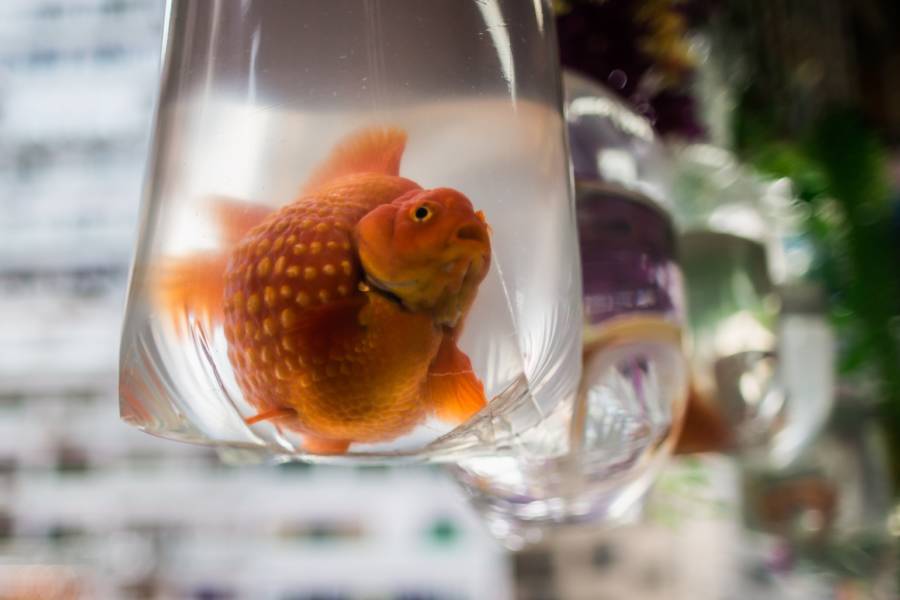 Watch How to Acclimate Your Fish to Your Aquarium Floating Method video
Forum on this topic: How to Acclimate Your Fish to Your , how-to-acclimate-your-fish-to-your/ , how-to-acclimate-your-fish-to-your/
Related News
How to Get French Laundry Reservations
Roberto Cavalli Fall 2019 RTW Collection Goes '70s Luxe
The Best Way To Avoid Holiday Weight Gain
Raspberry Mango Sorbet Recipe
Givenchy Summer 2010 Collection
Despite Public Support, Ryan Zinke Recommends Shrinking Bears Ears National Monument
How to Make a Horse Hair Bracelet
15 of the newest beauty breakthroughs you need to know about now
10 Crazy Ways To Sweeten Without Sugar
How to Make a Succulent Centerpiece
Why I Never Put Christmas Presents In Gift Bags
This London woman has been voted the best teacher in the world
McDonalds serves pizza
Date: 19.12.2018, 08:50 / Views: 91343
---